---
Updated: 12.04.2017
This is a resource ONLY.
I have no other information than what is provided here and the links to the studio websites.
INFORMATION REGARDING VISAS – http://www.uscis.gov/
---
INFO ON APPLYING FOR INTERNSHIPS
BE UNIQUE:
Most reels have similar ceilings of creativity and technicality. Find a way around this fact. Most reels at the internship level have similar content and feature similar exercises. This is because these exercises (i.e. floursack, bouncing ball, walk cycle) have proven over time to instruct and illustrate an understanding of the principles of animation and a sense of believable motion.
The reels that stand out have something different in their approach.
If you went through school not maximizing on every assignment to create something original and signature, then you need to go back to those pieces on your reel and add the flair needed to stand out.
KNOW WHAT YOU WANT TO DO AND WHERE YOU WANT TO GO:
To work in a specific part of CG, you must find a way to visually prove it first.
I can not hire you, if I don't see it on your reel.
Most studios look at reels from all creative fields, including motion designers, but the studio has to think about where they are going to put that person.
Don't send a reel of spaceships flying around, if you want to do character animation.
Same for VFX, if you want to do explosions, show me explosions.
You cannot set a path for yourself until you have a vague idea of where you are going.
If you are unsure, take classes and lean into different facets of CG. It will reveal itself.
If your current reel is a combination of efforts: break the content out for each specific job.
Break the content out for each specific job
Password protect if the content is unreleased film work.
The breakdown list: briefly describes your contribution to each shot and the tools used.
Shot Breakdown Example:
Shot 1: Witch Melting — animated the witch melting using Maya; created the textures using Photoshop.
If you did everything on your reel, say so.
Never claim anyone else's work.
MATERIALS NEEDED WHEN APPLYING
When hunting for an internship, you are supplying some very basic materials such as any job hunter might provide. All of these should be located in one place on a website online with a concise and easy to remember URL. You also should have hard copies of all of these things ready to go at all times.
1) a résumé. This will highlight your contact info, skills, education and previous jobs. Make it direct and to the point without excess graphics and glitz. Do not put unrelated positions on your resumes like Camp Director or Supervisor of a Pizza Hut.
2) a cover letter. Specifying your area of interest specific to the job/internship/apprentice posting; includes your contact info.
3)a letter of reference. From a faculty member, previous employer or both. Only include this is the posting asks for it!
4) a portfolio. Samples of traditional "hand skills", such as life drawing, painting, illustrating, character design, and other various animation in different media if applicable, etc. Story artists should have several ways to view work. Film prefers individual boards so when pitched the audience doesn't get ahead.  TV seems to prefer 6 up boards.  I would make a website that can show boards individually and then also a .pdf with 6 up boards.  Animatics can be useful as well although most feature board artists prefer the pitch over animatics.  Bottom line, ask what they want to see and only show it in the format they ask for.
5) a demo reel. Include a breakdown list and slates on each shot. Include head and tail slates with your name, phone and email.
More on Slates: These are text titles marking the beginning or end of a shot with the credits/info for that shot)
The internship provider understands that you are a student and they are not expecting you to provide a professionally accomplished resume or demo reel. But, make it look its best without overstating your qualifications.
6) a web site. You need a domain. No domain tells the viewer you are not a professional. Post your demo reel and digital version of your portfolio on your site and send along a link to those pages for "quick reference" in your cover letter/email to the studio. Many studios prefer all materials to be digital. A few still like hard copies. Send materials the way they request them to be sent. Only send the materials they ask for. If you need a free option, use WordPress to post portfolio images and text, and post your videos on Vimeo and then embed them on your WordPress site.
7) contact info: Everything you submit should be labeled clearly with your name, phone number, and email address.
How To Get An Internship at Cartoon Network – By Ridge Hirano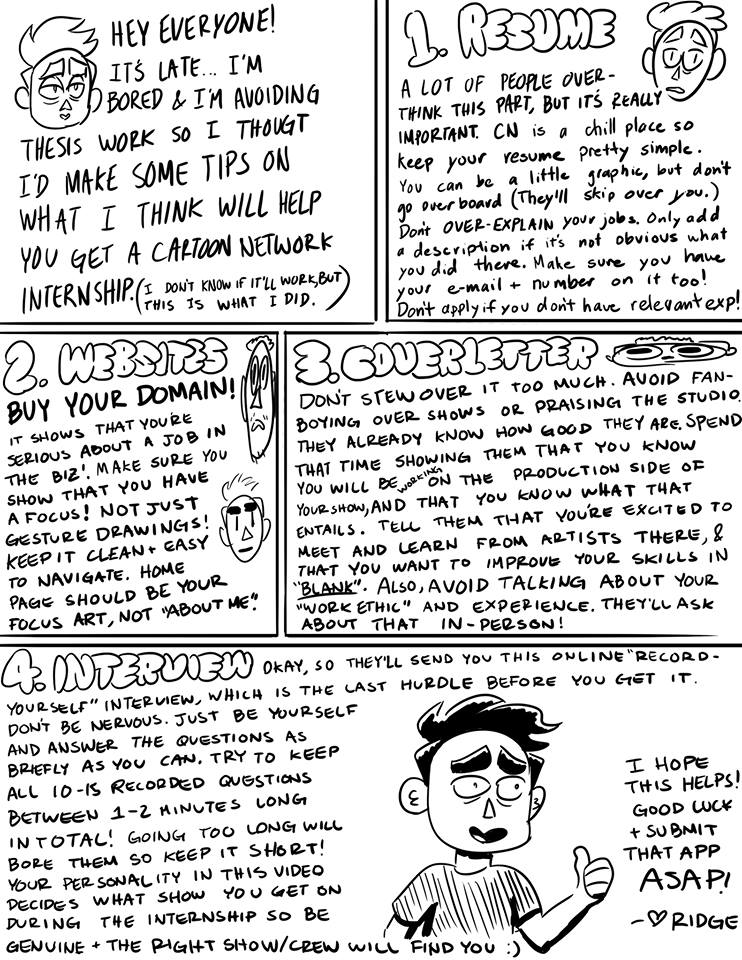 ---
Internships for Animation Tips and Listings