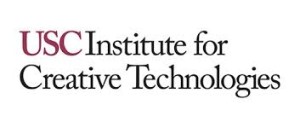 UPDATED: 12.07.2017
INTERNSHIPS AT USC-ICT
View the list of summer research program positions.
Apply now
The deadline to apply is February 5, 2018
ICT offers select interdisciplinary paid internships for creative and technical students wishing to pursue careers in simulation, interactive media and virtual reality fields. ICT aims to create compelling immersive systems for effective learning for military, entertainment and educational purposes.
Program Requirements
Students interested in participating in ICT's Interdisciplinary Summer Research Program should meet the following requirements:
Be currently enrolled as an undergraduate or graduate student at an accredited college or university in the U.S. or abroad
Be able to commit to a 12-week summer program, full-time, with start and end dates that comply with the applicant's school session calendar
Indicate if relocation housing and travel assistance is requested (your current address must be at least 90 miles from the Institute to be eligible)
Students are required to work full-time (40 hours per week) Monday through Friday. If you are interested in applying for a summer research position with ICT, please fill out an application.
Click here for a PDF of frequently asked questions.
If you have any other questions or concerns please email us at internprogram@ict.usc.edu.
All forms of communication regarding the summer research program must be directed to the above email address or:
USC Institute for Creative Technologies
Attn: ICT Summer Research Program
12015 Waterfront Drive
Playa Vista, CA 90094-2536