---
GENERAL COMMENTS ON APPLYING FOR JOBS OR INTERNSHIPS
Keep CV to one page, especially students.

Keep your showreel below three minutes.

Don't show unapproved work or WIP.

Put your best work first and provide breakdowns/credit list.

Label your reel and the case

Show the reel to others first and get feedback.

Make sure the content works on multiple computers.
THE RESUME (LIST IN THIS ORDER ON YOUR RESUME)
---
SAMPLE RESUME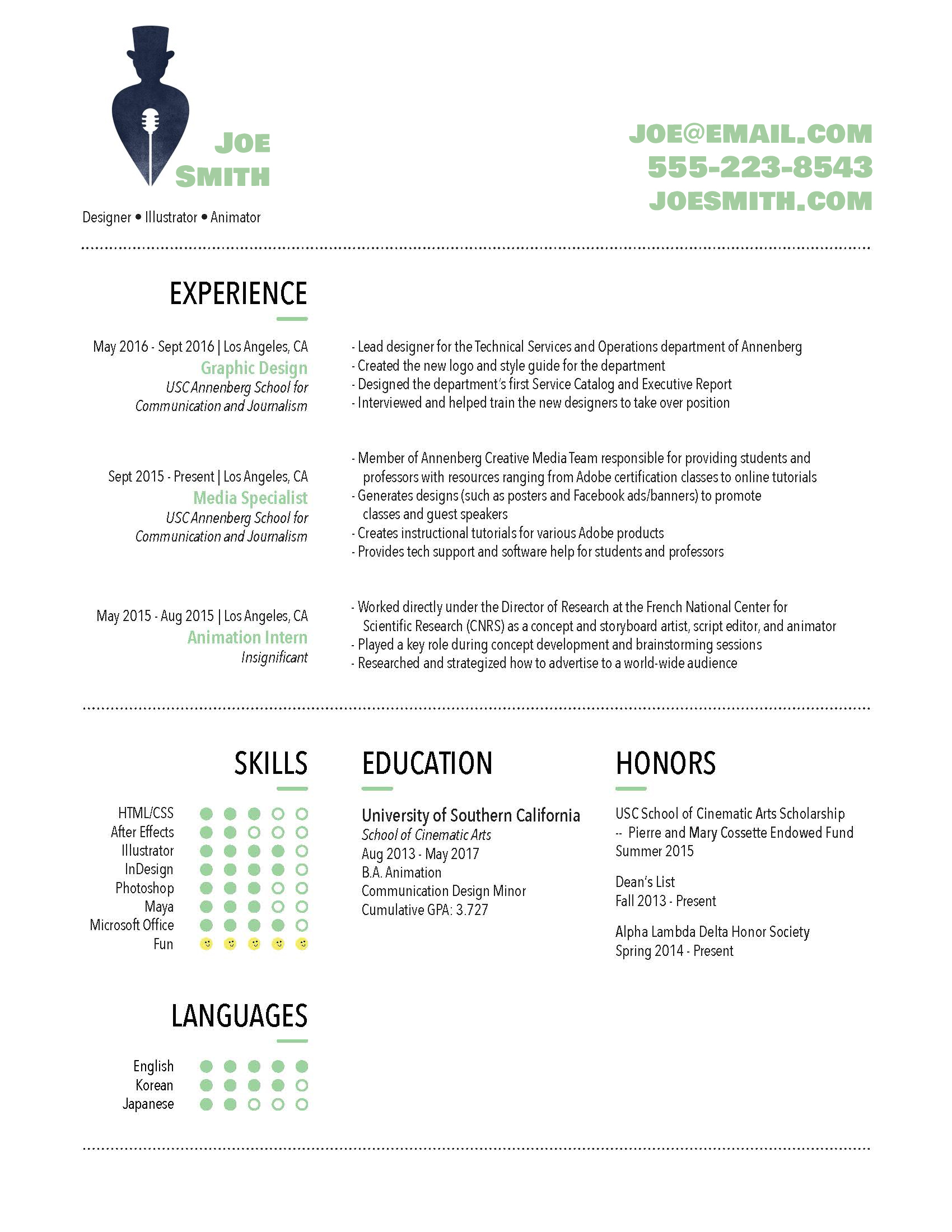 ---
1.) WHO? YOU!
Full name, address, phone number, email, and website.
HR can't get in touch unless they know who and where you are!
---
2.) WANT? OBJECTIVE!
Write an objective including the position you're applying for and be specific.

Some people do not like objectives, but I think when you are first starting out it makes it clear what job you are looking for.

When applying to a film/games/commercial animation company, tailor your CV accordingly. They only want to see information relevant to their industry.

If you are a Technical Director applying to various positions at different studios, create a new resume for each designed for that position and change the objective to match.

Do not apply for multiple positions at the same time. The resume goes to the same person and this is annoying and shows lack of focus.

If you want to apply for more than one position at the same studio, you can mention your varied skill set in your cover letter but have a focus towards your favorite position.

Be focused and targeted. (Example: "I am currently seeking a position as a character animator at Sony Pictures Animation.")
---
3.) LEARNED? EDUCATION! You may switch 3 & 4 if you have some experience in the industry that is applicable. Most students only have education and this is why it comes first, here.
List any college degrees, advanced degrees, or professional programs that you've completed.

For each one, include the name of the school and the program, and its start and completion dates.

These can be very important if you will need a visa to come to the United States.

If you are a student, this is more important than your work experience because you have little at this time.

Seasoned artists should list the work experience before education.
---
4.) DONE?
Resumes vary.

I recommend the reverse chronological format when you submit.

Begin with your most recent employer and list all the companies you have worked for.

Be sure to include the name and location of each company, the dates of your employment, the name of the project you worked on, software used, and the platform(s) the project was for.

Do not list jobs that are unrelated to the animation industry.

Lists read quicker than paragraphs. Make it easy for them to read.
Example:
HellKat Game Studios, Santa Monica, CA
Kittens United (PS3)
Game Animator
Game animation production with human bipedal rigs using 3DS Max

Animation for both characters and props

R & D animation testing with PS3 debugging station

Support FX artists, riggers, and designers in creative collaborations
---
5.) DO?
What art software packages have you used?

What is your experience level with each?

What experience do you have?

If games, what platforms have you developed for and what operating systems are you familiar with?
---
6.) WHAT YOU'VE WON
Awards that you have received, professional organizations that you are a member of and your interests and hobbies.

It's good to have a life outside of production.
---